Phigolf 2 Portable Simulator Review
Phigolf 2 Portable Simulator Review
Our verdict on the Phigolf 2 portable simulator that lets you play and work on your game from the comfort of your home
(Image credit: Phi Golf )
GOLF MONTHLY VERDICT 


A superb alternative to having to go to the driving range to work on your swing. The Phigolf 2 simulator will provide extensive feedback on all the data you would receive from the games best launch monitors and even allows you to work on your fitness through a speed golf feature.
REASONS TO BUY
+Provides accurate data to help improve your swing
+Easily set up via Bluetooth
+Access to bucket list courses via your television
REASONS TO AVOID
-A little time consuming to set up
Phigolf 2 Portable Simulator Review
It's incredible to what levels that you can practise from the comfort of your own home these days and this state-of-the-art mobile golf simulator has a wealth of features that will both train your game and have some fun with it. It might even get you fit too.
To explain how Phigolf 2 works; a 9-axis motion sensor is attached to the swing trainer or your own club and that reads your swing. The data from that is passed into the simulator app which is on your smartphone/tablet, via Bluetooth, and it then cleverly calculates the ball's trajectory from that data and displays it on your TV by using a mirroring device. The swing trainer is weighted to feel like a real golf club or, if you do want to hit a few, then it can be inserted into your own clubs and you can fire a few into a net.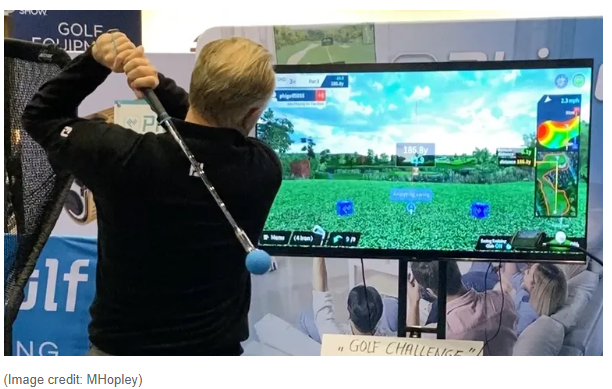 (Image credit: MHopley)
What's really intuitive is the level of feedback that you can get on each swing with live data on your clubhead speed, swing tempo, club path, face angle, attack angle and shot distance. So there is a genuine window to work on your game as one of the best golf training aids as well as getting your golfing fix when you can't get to the course or range. 
As for the getting fit element, there is a speed golf feature where your score is based on your speed as well as your score so you can run between shots and, in the process, lose a few pounds as well as working away at your handicap. The Phigolf 2 is an upgrade to the original sensor and has been designed to be more durable and user friendly and, for what you get, it comes at an attractive price given it's one of the best golf simulators for home use.
Phigolf 2 Simulator: Price Comparison
https://www.golfmonthly.com/reviews/golf-tech-and-training-aids/phigolf-2-portable-simulator-review